Red Horizon

Mónica de Miranda


2020, 7'44''

Directed by: Mónica de Miranda
Featuring: Ingrid Fortez
Edited by: Mónica de Miranda
Post-production: Xavier Franganito
Text: Raquel Lima
Voice: Renata Torres
Sound design: Filipe Ridol

Project supported by the Risk Change! program and Instituto Camões.

A woman stands on top of a hill in the Namib desert in Angola, looking into an extensive horizon of a vast desert, she signals the hope of crossing these borders symbolizing the repossession of the land and the regaining of a lost identity. The landscape as pathology is explored through these images; how past violence manifests in the landscape of the present, both intrinsically and symbolically. We live in a present space, but one that bears the marks of its history. As much as we occupy places, they have the capacity to pre-occupy us. The red horizon or the destiny for the liberation are like mirages on the walking performance. This woman walks alone and has to face herself alone in the name of the revolution to find out that the revolutionary quest is more a personal journey of personal transformation.

Vörös horizont

Mónica de Miranda


2020, 7'44''

Rendező: Mónica de Miranda
Közreműködő: Ingrid Fortez
Vágó: Mónica de Miranda
Utómunka: Xavier Franganito
Szöveg: Raquel Lima
Narrátor: Renata Torres
Hang: Filipe Ridol

A projektet a Risk Change! program és a Camões Intézet támogatta.

A nő egy domb tetején áll az angolai Namib-sivatagban. A hatalmas sivatag széles horizontjára tekint. A föld visszaszerzése és az elveszett identitás visszanyerését szimbolizáló határ átlépésére gondol. A tájat mint patológiát vizsgálják ezek a képek; azt, hogy a múltbeli erőszak hogyan nyilvánul meg a jelen tájban, belsőleg és szimbolikusan is. Egy olyan jelenben élünk, amely magán viseli történelmének nyomait. Amennyire elfoglaljuk a helyeket, annyira képesek azok lefoglalni minket. A vörös horizont vagy a felszabadulás sorsa olyan, mint a sétáló délibáb. Ez a nő egyedül megy, és egyedül kell szembenéznie önmagával a forradalom nevében, hogy rájöjjön, a forradalmi útkeresés az egyéni átalakulás személyes útja.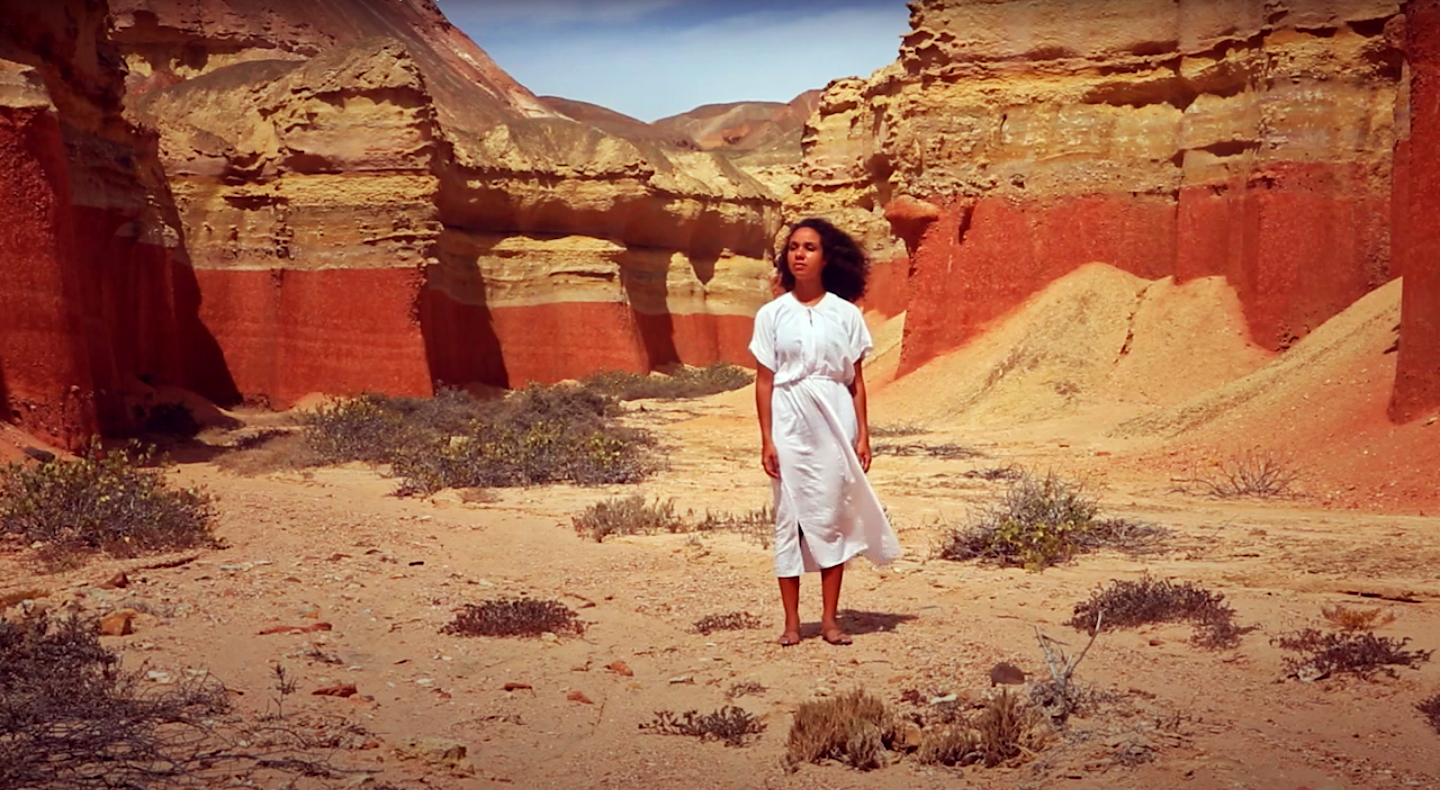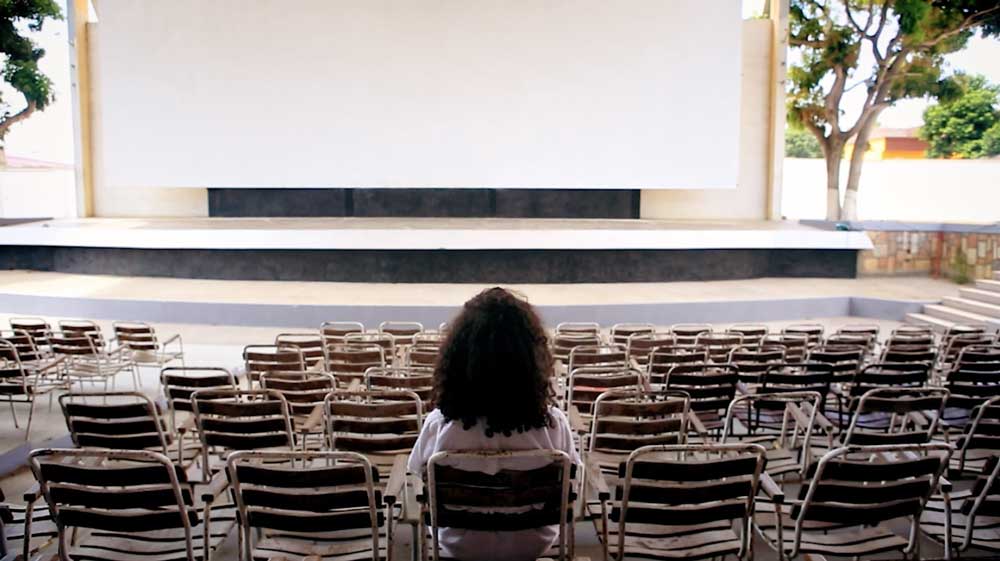 Red Horizon at the OFF-Biennale
Eszter Szakács

Mónica de Miranda's film Red Horizon premiers at OFF-Biennale Budapest 2021. The film, based on earlier footage the artist shot in Angola, is the outcome of the series of discussions we had with Mónica during her residency program in Budapest in 2019, in the framework of the Risk Change! project.

The artist joins in Red Horizon the dystopian landscape of the Namib Desert and the utopian and failed promise of socialism, of Marxism-Leninism in Angola through the figure of a lone woman on a journey. One of the references Miranda works with is Sarah Maldoror's 1972 film Sambizanga, which is set in 1961, during the first independence movement uprisings in Angola. Sambizanga stages the personal and revolutionary transformation of the main protagonist Maria on a quest to find her husband who was detained and eventually killed by the colonial police force. As Miranda noted in one of our conversations in relation to Sambizanga, Marxism-Leninism was significant in the Angolan party, and later country leader, of the MPLA, on the one hand, as it was conceptualized as an attempt for the liberation of women, and on the other, as it united blacks, mestiços, and whites in their revolutionary struggle on the bases of class, rather than dividing them by racial conflicts. [1]

Red Horizon also centers the next generation after the Cold War. The Angolan liberation struggle during the Cold War was aided by Cuba, the Soviet Union, as well as Eastern European socialist countries, in particular Czechoslovakia. The protagonist in the film is an Angolan woman, born in Czechoslovakia as the legacy of the historical relationships between Angola and the Socialist Bloc.


[1] Alice Breitmeyer, "To what Extent was Sarah Maldoror's Sambizanga Shaped by the Ideology of MPLA?" Buala, June 4, 2014.
Vörös horizont az OFF-Biennálén
Szakács Eszter


Mónica de Miranda Vörös horizont című filmje 2021-es OFF-Biennálén látható először. A film, amely a művész Angolában készített korábbi felvételein alapul, annak a beszélgetéssorozatnak az eredménye, amelyet Mónicával a 2019-es budapesti rezidenciaprogramja során, a Risk Change projekt keretében folytattunk.

A művész a Vörös horizontban a Namíb-sivatag disztópikus tájképét és a szocializmus, a marxizmus-leninizmus angolai utópisztikus és meghiúsult ígéretét kapcsolja össze egy magányos, úton lévő nő alakján keresztül. Miranda egyik referenciája Sarah Maldoror 1972-es Sambizanga című filmje, amely 1961-ben, az első angolai függetlenségi mozgalmi felkelések idején játszódik. A Sambizanga a főszereplője Maria személyes és forradalmi átalakulását állítja középpontba, aki bebörtönzött és ott végül megölt férjét keresi. Ahogy Miranda az egyik beszélgetésünk alkalmával a Sambizanga kapcsán megjegyezte, a marxizmus-leninizmus jelentős szerepet játszott az Angolai Népi Felszabadítási Mozgalom (MPLA) vezető baloldali pártnál, egyrészt azért, mert a nők felszabadítására tett kísérletként is értelmezték, másrészt azért is, mivel a feketéket, mestiçókat és fehéreket az osztályalapon egyesítette, és nem osztotta meg őket faji ellentétek alapján. [1]

A Vörös horizontban a hidegháború utáni generáció jelenik meg. A hidegháború alatt az angolai felszabadító harcot Kuba, a Szovjetunió, valamint a kelet-európai szocialista országok, főként Csehszlovákia is támogatta. A film főszereplője Angola és a szocialista blokk közötti történelmi kapcsolatok örökségeként Csehszlovákiában született.


[1] Alice Breitmeyer, "To what Extent was Sarah Maldoror's Sambizanga Shaped by the Ideology of MPLA?" Buala, June 4, 2014.
Shambizanga
Filmed in the Angola of 1961, Sambizanga is Sarah Maldoror's first film, co-written by her husband, a leader in the Angolan resistance. The story focuses of a happy young African couple; one day the husband is arrested for political reasons and interrogated in the dreaded Luanda prison.
Shambizanga

Az 1961-es Angolában forgatott Sambizanga Sarah Maldoror első filmje, amelyet férje, az angolai ellenállás egyik vezetője írt. A történet középpontjában egy boldog fiatal afrikai pár áll; egy nap a férjet politikai okokból letartóztatják, és a rettegett luandai börtönben hallgatják ki.
Sarah Maldoror (1929–2020)
Angolan freedom fighter woman.
Angolai szabadságharcos nő.